Creating the Next 21st Century Manufacturing Leader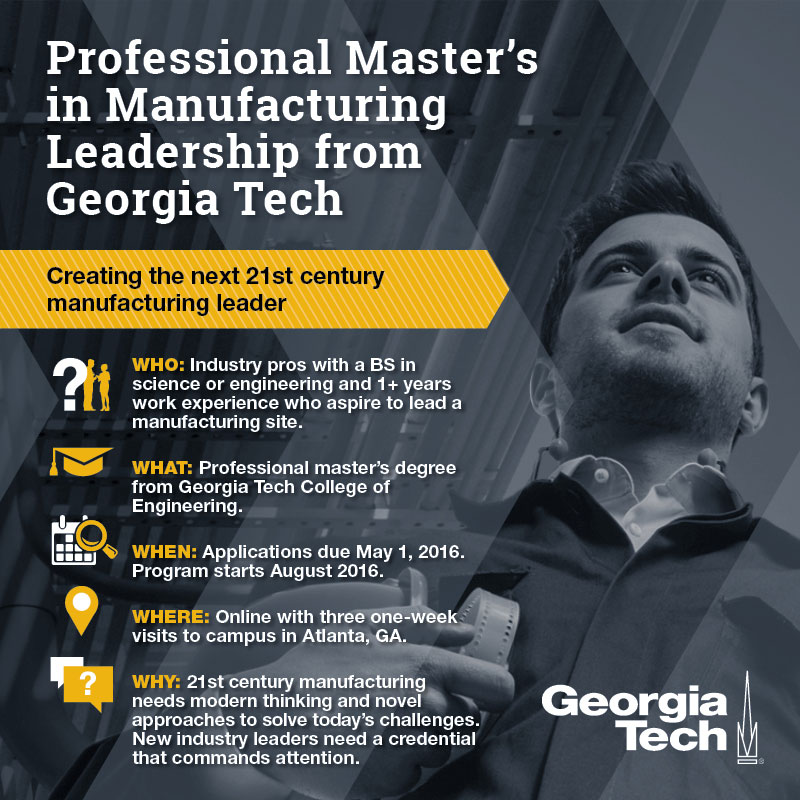 The manufacturing industry of the 21st century needs modern leaders and novel approaches to solve complex challenges.
Georgia Tech's Professional Education, in partnership with Renewable Bioproducts Institute (RBI), and College of Engineering, is pleased to announce the new professional master's degree in manufacturing leadership (PMML), the first of its kind in Georgia.
Designed for working manufacturing industry professionals.
The program is geared to science or engineering graduates, with at least one year's work experience in manufacturing. The degree is intended to prepare professionals to assume positions of business and technical leadership on a manufacturing site or at the corporate level.
Continue your education while you continue working.
The professional master's degree in manufacturing leadership includes online instruction and one-week on-campus sessions three times during the two-year program, which begins in the 2016 academic year.
Details of the program
The graduate program includes ten courses. Learners focus on one class at a time, and can choose from two areas of concentrations – forest bioproducts or chemical manufacturing. The program is wrapped up with a Capstone, a comprehensive team-based project that offers solutions for real-world industry problems.
New industry leaders need a credential that commands attention.
View our website for more information on the Professional Master's in Manufacturing Leadership.