GTPE Dean Calls for Professional Education to Shape the Future of Higher Education
Nelson C. Baker, dean, Georgia Tech Professional Education delivered a keynote address at the University Professional and Continuing Education Association (UPCEA) 2015 South Region Conference in Savannah, Georgia, on October 14, 2015. Entitled "Navigating Uncharted Waters: What Does it Take to Stay on Course?" the presentation addressed the need for professional and continuing education units to play more prominent roles in universities and take the lead in shaping the future of higher education.
The challenges faced by higher education and the solutions their professional and continuing education units provide was the key theme of the address. In the United States, federal and state budgets for higher education are shrinking while compliance and governance are becoming more complex. Public pressure on universities is rising, with more emphasis being placed on return on investment. Today, universities are required to do more than produce graduates; they are expected to produce graduates who can immediately secure employment. And in addition to delivering foundational learning, universities are expected to provide education that remains relevant throughout the careers of its graduates.
The problem, Dean Baker pointed out, is that knowledge acquired during a traditional degree program no longer lasts a career. To remain competitive in their fields, educated, employed professionals seek professional education opportunities throughout their lifetimes. To illustrate the point that traditional higher education, even at master's or Ph.D. levels, is no longer meeting a lifetime of learning needs, he shared information about Georgia Tech's Online Master of Science in Computer Science (OMS CS) program in which 21 percent of learners already have advanced degrees, including several who have Ph.D.s.
Citing the National Center for Education Statistics, Dean Baker highlighted the growth of the adult learner demographic: aged 25 and over, this group of learners has grown 41 percent in the last decade and is predicted to increase by another 14 percent in the next 10 years. Recognizing the opportunity for growth, university administrators are turning to their professional and continuing education units to reach this rapidly expanding market. These units, traditionally operating on the periphery of universities, are now finding themselves in the hubs of activity of their institutions. Because of their connection with, and understanding of the adult learner, professional and continuing education units are now expected to steer their universities to meet the educational needs of lifelong learners. 
This new central role presents unfamiliar challenges for these units: new performance expectations, higher levels of accountability, and institution-wide constraints. At the same time, they're expected to deliver innovative solutions and drive the changes needed for their universities to evolve.
Dean Baker outlined several success factors for continuing ed units to consider as they navigate change in their own universities: addressing learner needs, meeting industry demands, building partnerships, and driving innovation. For example, he discussed GTPE's professional master's degrees, which are hybrid programs combining online and face-to-face instruction. These niche programs are aimed at professionals in Science, Technology, Engineering, Math (STEM) related careers and differ from classic professional master's degrees such as executive MBAs. Tailored specifically to meet the needs of STEM-related industries and professionals, GTPE's professional master's degrees focus on building and integrating business and leadership skills with technical competencies. The hybrid nature of the programs enables professionals to continue working while enrolled. These degrees illustrate GTPE's innovative approach to advance STEM-related industries and meet the professional education needs of their future leaders.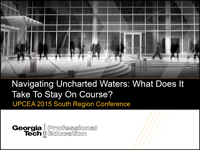 Download the presentation:
"Navigating Uncharted Waters: What Does it Take to Stay on Course?"
Dean Baker also discussed the importance of balancing employer and employee needs and explained that the format of the professional master's programs was a direct result of feedback received from employers and potential learners. The online portion of these programs, which enables learners to pursue their professional education while continuing to work, satisfied employers. The on-site, face-to-face portion offering immersive, on-campus learning experiences satisfied learners. By taking industry and learner needs into account, GTPE and its Institute partners developed a program format to serve two diverse but equally significant groups of stakeholders.
As a final message, Dean Baker emphasized the importance of developing the optimal mindset to thrive in times of change. Being open to new ideas and constantly acquiring new knowledge is essential for operating effectively in ever-changing contexts. To succeed, he stated, professional and continuing education leadership and staff need to be willing to become lifelong learners themselves. Ending his presentation with a challenge to audience members, he led them through an activity focused on assessing their own readiness to deal with change.