Growing Through The Stages
From newbie to guru, today's workers can't afford to forego job-related learning
For most working adults, ongoing professional education is a fact of life. Today's workers, regardless of experience, understand the value of continued formal learning and pursue it throughout their careers. The reasons may vary, but the message is clear – job-related learning is seen as an essential component of professional success.
While disruption has been synonymous with business for decades, the Covid-19 pandemic has both exacerbated and threatened the workplace in new ways, creating an ever-widening skills gap and adding an additional emphasis on the importance of employee learning.
A recent McKinsey Global Study on reskilling uncovered that the best way to address the global skills gap is through skill building – even more than hiring, contracting, or deploying employees. In fact, 69% of organizations are doing more skill building now than they did before the Covid-19 pandemic, with a prioritization on social, emotional, and advanced cognitive skills.
Even more, a Lifelong Learning and Technology research study of working adults found that those who seek to improve their skills through professional development a more likely to be equipped to change careers, receive a promotion, obtain a raise, and increase job security.
Professional education meets a range of needs depending on goals, circumstances, and career stages. Professionals starting to build their careers have different learning goals from those with years of experience. Although career journeys in today's constantly evolving work environment tend to be unpredictable – with working adults returning to formal learning as needed rather than following a consistent, predetermined path – different types of professional education can be associated with specific points in one's career. 
Career Newbie
For recent graduates starting out in their careers or career changers entering a new field, the focus is on developing skills, building knowledge, and gaining experience in their new roles. Becoming familiar with their work environments, understanding the complexities, and navigating their organizational structure are also typical demands of individuals who are beginning a new career. Since their priority is to build a career foundation, formal credentials are important for these professionals.
Apart from being motivated to learn, these working adults need to be at ease with structured, formal learning and confident with using a variety of learning tools, to succeed. Professional development beneficial to this career situation includes graduate degree programs, certificate programs, boot camps, and skill-specific courses. Competency assessments can also be useful to test skills and show progress.
GTPE offers several online Master of Science programs as well as professional master's degrees that can support individuals in this career situation. Other offerings include immersive boot camps, in-depth certificate programs in STEM, business, and leadership fields and more than 300 short courses. Massive open online courses or MOOCs, which have gained popularity in recent years with learners at all career stages, are a convenient and affordable way to build knowledge.
Esterling Accime, for example, completed GTPE's Full-Stack Flex Web Development Certificate program and embarked on a new career in web development. Although not a recent graduate, he was a novice to web development and used rigorous, formal learning to gain access to a thriving new career.    
Early-Days Career Builder
In today's work environment, individuals are known to change jobs several times in their lives. According to a 2021 study by the U.S. Bureau of Labor Statistics, the average number of jobs individuals born between 1957 and 1964 held between ages 18 and 54 is 12.4.. Regardless of how often professionals change jobs, at some point – whether only once or several times – they find themselves at the early career-building stage when they have mastered the foundational skills.
The priority for them is to expand their experience and deepen their knowledge. While they have demonstrated competence in their roles as a result of foundational knowledge, their next challenge is to establish themselves as experts in their fields.     
Besides building their expertise, these workers also focus on expanding their professional networks, which offer an essential platform for developing a reputation in their fields, exchanging knowledge, and connecting with influencers outside of their organizations.
Formal credentials are important at this career point. GTPE's professional master's programs, as well as boot camps, certificate programs, and short courses, are well suited to these learners. In addition to being motivated to learn and comfortable with formal learning, they also need to be agile and open to learning about new perspectives on familiar topics. Collaborating with classmates from different fields or professional backgrounds offers unique learning opportunities and enriches their experience.
Anargyros Antonoppoulos, who was the first graduate of GTPE's Advanced Problem Solving Certificate program, found the collaboration with peers in his program to be particularly beneficial. "I found it valuable to be exposed to other mindsets and to see how classmates from other industries see the same topics and approach similar problems," he said. Antonopoulos is an example of a professional in the early stages of his career as a civil engineer who saw the importance of professional learning and made the most of it to excel in his role.
Experienced Pro
For professionals who have mastered the skills required by their jobs and demonstrated expertise in their fields, the next step is typically to develop leadership capabilities. In the GTPE context, this situation involves professionals with superior technical expertise but who need to combine it with leadership skills to be able to advance their careers.
Even for those who do not aspire to a leadership role, professional education at this point in their careers enables them to maintain their expertise, stay current in their fields, and build agility to be able to adapt to change and stay in demand.     
As learners, these individuals bring valuable work experience to the classroom, so knowledge exchange with classmates, whether in person or online, is a valuable aspect of the learning experience. In some cases, these professionals may not have pursued work-related learning for some time and may find formal education daunting. Or they want to expand their expertise but are unable to devote time to a traditional classroom setting. To maximize their learning, these individuals need goal-oriented, purpose-driven instruction and the ability to apply their learning to their jobs so that they can see immediate results.   
GTPE's professional development offerings, such as hybrid professional master's degrees, in-demand certificates, or flexible short courses, are designed to be directly applied to learners' work environments and to deliver immediate return on investment. Brian Brown, for example, took the Scrum certification program with his team at GTPE. This learning experience led him and his team to implement Agile software development processes in his organization, positioning it to compete globally. 
Career Guru
In today's work environment, even individuals who are established in their careers as experts and leaders can't afford to forego professional education. They typically have a wealth of experience and depth as well as breadth of knowledge, combined with leadership skills. But new technologies and constant new developments in their fields or industries drive the need for career-long education.   
Boosting job security means being open to change, being adaptable, and staying current with the latest tools and technologies in their industries even if they're not necessarily using them in their organizations. As companies respond to constant disruptions and market changes, individuals of all experience levels can end up needing to reinvent themselves to remain relevant and demonstrate that they are able to move with the times.
Often learners with vast work and leadership experience find it uncomfortable to be in unfamiliar situations such as formal learning environments in which they are not fully in control. To thrive as learners, they need to overcome such barriers and embrace change.
Upgrading existing skills, developing new expertise, and earning in-demand credentials increases their chances of retaining their positions or finding new employment in case of changes that threaten their job security. Chris Sticher, for example, faced the biggest challenge in his 22-year career when his company changed strategic direction. Sticher, then vice president of operations, needed to develop new expertise to continue to be successful in the company. By taking the Project Management Certificate program at GTPE, he was able to rebuild an executive role in his company and reinvent himself at a time of change.
Work-related Learning Works
All professionals, regardless of experience, need to pursue work-related learning throughout their careers to remain successful. While their reasons for doing so may vary, an array of professional development options exist. GTPE offers learning opportunities in a variety of subject areas to build technical expertise as well as business and leadership skills to support every career point and goal.
What's your current career situation? What kind of learner are you? What are your learning options at GTPE? Click on the image below and find out!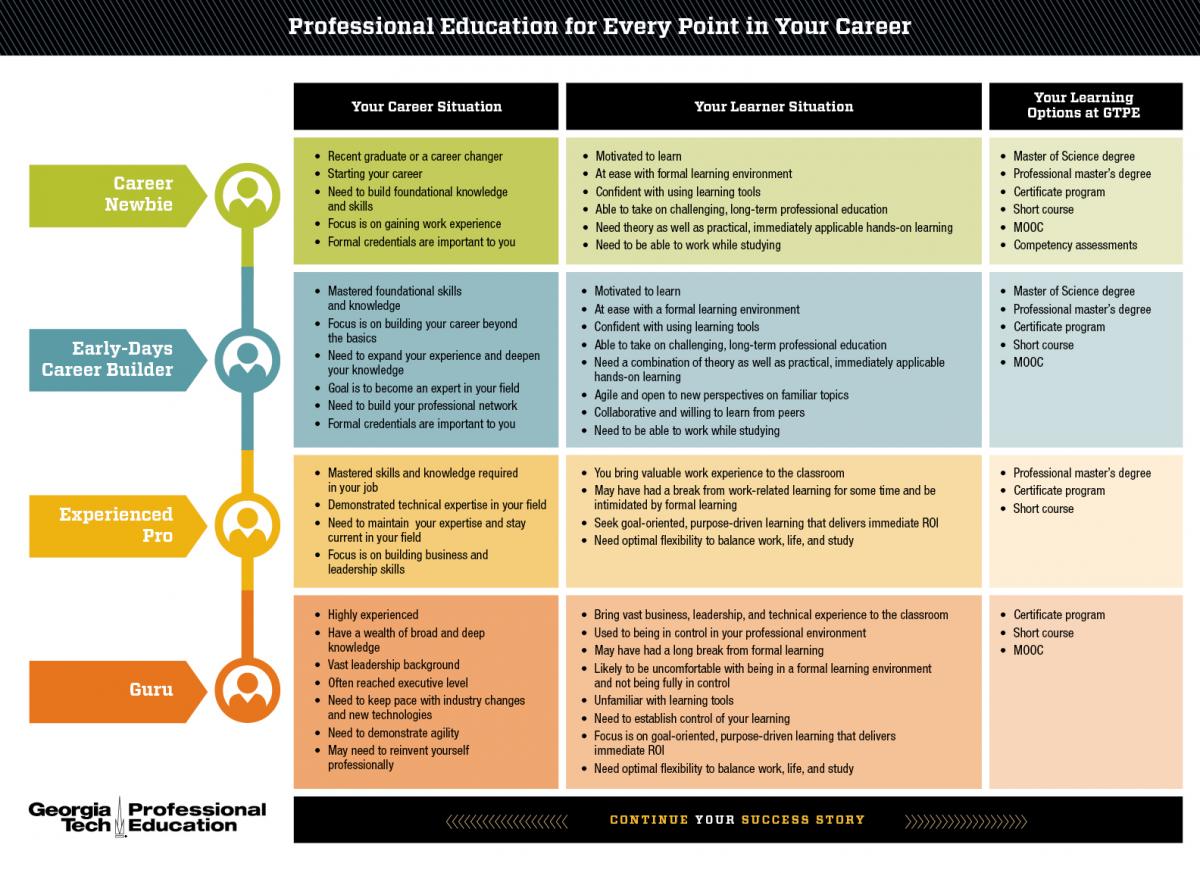 Georgia Tech Professional Education is a leader in innovative educational delivery, designed for working professionals in tech, business, and leadership. Our connection to the marketplace — coupled with our world-class faculty, researchers, and subject matter experts — provides an unparalleled perspective on education innovation, industry trends, future work, and lifelong learning. To uncover additional resources to help with questions and challenges around career advancement visit our Working & Learning page.
Credits
Writer: Gordana Goudie
Editor: Kelsey Harris
Digital Producer: Kelsey Harris